Application is now closed.
"I'm trying to free your mind, Neo. But I can only show you the door. You're the one that has to walk through it." – Morpheus, The Matrix
The Sustainability Mentorship Programme (in its 2nd run) is a youth mentorship programme co-organised by sustainability advocates in Singapore, including:
Ria Tan, Wildsingapore
Eugene Tay, Green Future Solutions and Zero Waste SG
November Tan, Urban Planner and Founder of The Leafmonkey Workshop
Marcus Tay, Sustainability Manager
1. Objectives
Through this mentorship programme, we hope to:
Nurture a core group of youth (19 to 29 years old) with a holistic view of sustainability issues in Singapore
Inspire them to be sustainability champions and leaders in the public, private and NGO sectors
Support them to stay committed to the sustainability cause for the long-term
Help them to ask the right questions and find answers
2. Timeline
Open call for mentees from 11 Dec 2015 to 10 Jan 2016
Select and interview mentees from 11 to 29 Jan 2016
Start 10-month programme from Feb to Nov 2016 (we meet at least twice a month – 1 for topic discussion; 1 for group project discussion)
3. Selection
Open to Singaporeans and PRs from 19 to 29 years old
Applicants should fill in the application form and submit it by 10 Jan 2016
Shortlisted applicants will be notified for an interview
20 mentees will be selected for the programme based on the application and interview
We prefer mentees with these attitudes and skills:
Passionate about the environment and committed to the sustainability cause for the long-term
Have basic knowledge of environmental issues
Humble and willing to learn
Self-motivated and able to work independently
Have good time management skills
Punctual and respond to correspondence promptly
Want to take personal action to make a difference
Communicate effectively in English (spoken and written)
Able to work well with people of different backgrounds
Have experience working on projects or jobs related to the environment (preferred but not necessary)
4. Mentee Responsibilities
Attend all mentorship sessions and be punctual
Meet at least twice a month (1 for topic discussion; 1 for group project discussion)
Read materials recommended by mentors
Prepare answers to questions from mentors and other mentees
Work on a group project during the mentorship programme (assigned by mentors)
Implement an individual project of your own choice after the mentorship programme
Share results and experiences of projects with mentors and other mentees
The programme is free but mentees pay for their own expenses
5. Mentor Responsibilities
Lead 2 topic discussion sessions (mentors are free to join other sessions as co-mentors)
Mentor one group of 5 mentees in implementing a project during the mentorship programme (to be determined by mentors)
Share knowledge, skills, values and experience with mentees
6. Topic Discussion
Topics, mentor and tentative date for each session (subject to change):
Session 1 | 27 Feb 2016 | All Mentors
Introduction; what being green means to you; self-reflection
Session 2 | 26 Mar 2016 | Ria Tan
Biodiversity and ecology; nature conservation; ecosystem services
Session 3 | 30 Apr 2016 | Eugene Tay
Zero waste and circular economy
Session 4 | 28 May 2016 | Marcus Tay
Capitalism; green businesses; CSR
Session 5 | 25 Jun 2016 | November Tan
Water and food security
Session 6 | 30 Jul 2016 | Marcus Tay
Consumption; green products and materials
Session 7 | 27 Aug 2016 | Eugene Tay
Energy security and climate change; green buildings; green transport
Session 8 | 24 Sep 2016 | November Tan
Environmental laws and agreements; urban planning; public policy formulation
Session 9 | 22 Oct 2016 | Ria Tan
Marketing and communications; campaigning and government engagement
Session 10 | 26 Nov 2016 | All Mentors
Conclusion; what it all means; project presentations
Format of topic discussion:
Topic discussion session is held on a Saturday morning (9am to 1pm) and led by a mentor
Each session is held indoors or outdoors, and venue would be relevant to the topic where possible
Session format can be a mix of lecture, tutorial, tour or activity
Guest mentors with specialised domain knowledge can be invited to share
Mentor will provide reading material to mentees before the session
Each group will prepare answers to questions from mentors and other mentees
Each session would be around 3 to 4 hours: Discussion on topics, reading material, answers, and exploring issues, solutions, opportunities and challenges; Sharing of values, skills and experiences
7. Group Project Discussion
Mentees will be divided into 4 groups and assigned a mentor for each group
Each mentor will determine the project and monitor progress
Each group will meet every month with the mentor to work on project (may require to meet more than once)
Group meeting date is to be fixed with the mentor and other mentees in the group
Each group is to do a project presentation at the last mentorship session
8. Individual Project
Each mentee is required to implement a project of your own choice after the mentorship programme
Each mentee will update and share results and experiences of project with mentors and other mentees
9. About the Mentors
Here's the profiles of the 4 resident mentors for the Sustainability Mentorship Programme 2016:
Ria Tan, Wildsingapore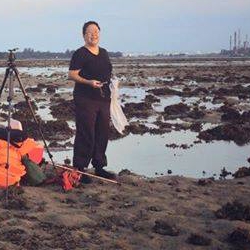 Ria Tan is just an ordinary person who is passionate about Singapore's marine life. For the last 10 years, she has been regularly monitoring about 40 Singapore shores, making about 100 surveys a year with a small team of hardcore volunteers.
She blogs at wild shores of singapore and runs the wildsingapore website which includes wildsingapore news and wildsingapore happenings and an online guide to Singapore's common marine life. She has more than 50,000 photos on wildsingapore flickr for free download.
She started TeamSeagrass and volunteers with the Mega Marine Survey of Singapore in collaboration with NParks. She was involved in setting up the guiding system at Chek Jawa and Pulau Semakau and trained volunteer guides at the Sisters Islands Marine Park. She is also part of the Friends of Ubin Network and organised Ubin Day 2014 and Ubin Day 2015. She volunteers as a nature guide with the Naked Hermit Crabs.
She is also an associate of the Lee Kong Chian Natural History Museum of Singapore. She is co-author of the Chek Jawa Guidebook and the Wild Singapore coffee table book. She recently produced the Singapore Shores guidesheet and is currently working on new marine nature guidebooks for Singapore. More about wildsingapore and Ria's projects.
Eugene Tay, Green Future Solutions and Zero Waste SG

Eugene Tay is a sustainability advocate who believes in spreading the environmental message, and inspiring and empowering others to take action.
He is the Director of Green Future Solutions, a sustainability consulting company that helps businesses and organisations address environmental challenges and identify green opportunities. He guides companies and organisations along their sustainability journey, and helps them on: Strategy and Operations; Research and Content; and Education and Training.
Eugene is dedicated to ending waste in Singapore and is the Executive Director of Zero Waste SG, a new non-governmental organisation dedicated to help Singapore accelerate the shift towards zero waste and the circular economy. Zero Waste SG aims to promote education and engagement on the 3Rs (Reduce, Reuse and Recycle) among individuals and households; increase waste minimisation and recycling among businesses and organisations; and reduce specific waste.
Eugene is also the Co-Founder of Circular Economy Singapore, the President of the Sharing Economy Association (Singapore), and manages the Green Corridor campaign.
November Tan, Urban Planner and Founder of The Leafmonkey Workshop
November Tan is an environmental geographer by training, urban planner by profession and a nature volunteer by volition. She is the Founder of The Leafmonkey Workshop, which works with nature volunteers on scientific communication.
She did her Master in Social Sciences in geography, researching on Singapore's ecological footprint through the Singapore-Cameron Highlands' vegetable trade. She is also the curator of Pulau Ubin Stories and author of the Midnight Monkey Monitor blog.
For the past 6 years, she has researched and written on liveable cities and urban green spaces, as well as putting theories to practice as an urban planner.
Marcus Tay, Sustainability Manager
Marcus Tay is an environmental engineering graduate who gets a dose of the wild nature side, thanks to the NUS Toddycats. He first enjoyed himself working at Shanghai Roots and Shoots between 2006 to 2007, developing the Eco Office Program and Organic Garden for schools.
Subsequently, his work at the NUS Office of Environmental Sustainability allowed him to find success in tackling recycling contamination. Currently, he is IKEA Tampines' Sustainability Manager, overlooking the store's environmental impact, charitable work and most importantly, steering the sale of More Sustainable Life@Home products.
Marcus was also an active volunteer with International Coastal Cleanup Singapore for 9 years where he made like minded friends who worked together efficiently to deliver a logistical event with the barest of resources.
Marcus happens to be the inaugural winner of the Mediacorp Saving Gaia challenge.
10. Application Form
Pls submit the application form to eugene@greenfuture.sg by 10 Jan 2016 (closing date is now extended to 24 Jan). We regret that only shortlisted applicants will be notified for an interview.
Download Sustainability Mentorship Programme 2016 Application Form (application is now closed)
"You take the red pill – you stay in Wonderland and I show you how deep the rabbit-hole goes." – Morpheus, The Matrix